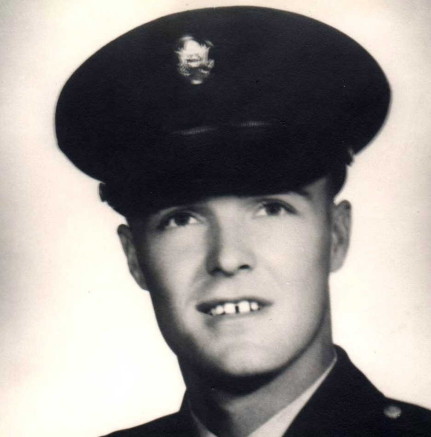 Staff Sergeant Robert W. Hartsock
United States Army
Killed in Action -Dau Tieng, Vietnam
February 23, 1969
Medal of Honor
Staff Sergeant Robert W. Hartsock, United States Army, who distinguished himself on 23 February 1969, by conspicuous gallantry in action while serving as section leader with the 44th Infantry Platoon, 3d Brigade 25th Infantry Division in Hau Nghia Province, Republic of Vietnam.
"On this date, when the Dau Tieng Base Camp was under heavy enemy rocket and mortar attack, Sergeant Hartsock and his platoon commander spotted an enemy sapper squad which had infiltrated the camp undetected. Realizing the enemy squad was heading for the brigade tactical operations center and nearby prisoner compound they concealed themselves and, though heavily outnumbered, awaited the approach of the hostile soldiers. When the enemy was almost upon them, Sergeant Hartsock and his platoon commander opened fire on the squad. As a wounded enemy soldier fell, he managed to detonate a satchel charge he was carrying."
"Sergeant Hartsock, with complete disregard for his own life, threw himself on the charge and was gravely wounded. In spite of his wounds, Sergeant Hartsock crawled 5 meters to a ditch and provided heavy suppressive fire, completely pinning down the enemy and allowing his commander to seek shelter. Sergeant Hartsock continued his deadly stream of fire until he succumbed to his wounds.
"Sergeant Hartsock's valorous efforts resulted in the disrupting of the enemy squad's mission, saved his platoon commander's life and, indirectly, the lives of many other comrades. Sergeant Hartsock's extraordinary heroism and profound concern for the lives of his fellow soldiers were in keeping with the highest traditions of the military service and reflect great credit on him, his unit, and the United States army."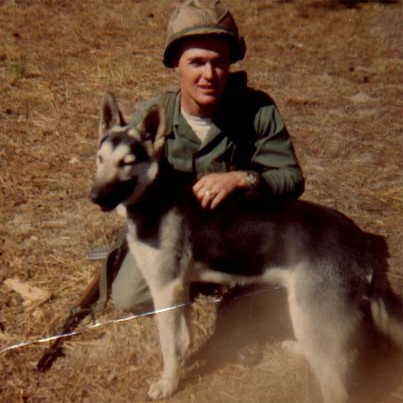 Robert and His Dog
Robert Hartsock Biography
Sgt. Hartsock is buried in Rocky Gap Veteran's Cemetery.
A former employee of the Baltimore and Ohio Railroad, he had entered the army in August 1967 and had only two months remaining of his duty tour in Vietnam when he was killed.
A resident of R.D. #1, Flintstone MD, he was a 1962 graduate of Everett Southern Joint High school.
The Cumberland American Legion Post #13 gives the Robert W. Hartsock Memorial Scholarship Annually to a Flintstone student who is going on to further his/her education.
Staff Sergeant Robert W. Hartsock was recognized with the highest military honor possible in a presentation to his parents, Mr. & Mrs. Kenneth Hartsock of Baltimore Pike, August 6, 1970 at the White House oval office in a ceremony led by President Richard M. Nixon.
The chapel at Rocky Gap Veteran's Cemetery is dedicated to Sergeant Hartsock. Three portraits and his Medal of Honor Citation are displayed in the chapel. He entered the service in August, 1967 and received training at Fort Bragg and Fort Benning before going to Vietnam from Camp Pendleton, Calif.
He was a graduate of Everett Southern High School where he played baseball and later became an avid spectator and sports fan and deer hunter.
Sergeant Hartsock is the only Everett alumnus to have been awarded the Medal of Honor.
©1999 Everett Alumni Association, used with permission
Photos property of Hartsock family, humbly used with permission