Battle of
DAU TIENG
Night of February 22-23, 1969
(UPDATED August 29, 2011)
"This web page is dedicated to the memory of Robert W. Hartsock (Medal of Honor) Henry (Ronald) Strobo and at least 41 other brave sons, fathers, uncles and friends who were lost to us the night of February 22, 1969 in and around Dau Tieng RVN."
Photo and Bio of Robert Hartsock, Medal OF Honor (posthumously) 44 Inf. Scout Dog Ptn.
Photo and Bio of Medic Howard T. Atkinson, Silver Star (posthumously),HHC 65th Eng. Bn.
This web page is intended as a historical site and may contain material graphic in nature. It is not my intent to glorify, but to document a moment in history overlooked in most part by the press and military historians. "Those who forget or fail to document history for future generations run the risk of repeating it" (paraphrased)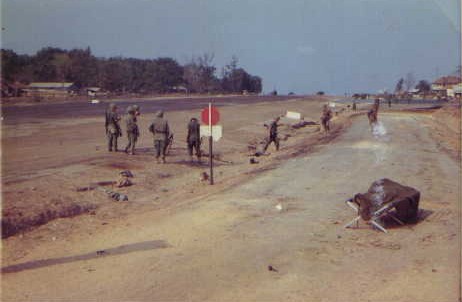 (This photo and others taken by Don Wimer also of METRO 1/27 Arty or myself the next day)
The original page published 3/29/1999 on AOL
(IF YOU KNOW OF ANY OTHER DECORATIONS, KIAs or ANY STORIES FROM THIS BATTLE PLEASE CONTACT ME)
(send e-mail to: webacraft@msn.com )
Click here to Read DSC awarded to 1LT Andres Gutierrez C Co. 1/27 Inf.
Published in Tropic Lightning News, June 23, 1969
Click here to Read ACM with V awarded to Bill Harwood HHB 2/77 Arty. and photo of Bill with "Orphan Anne" the 105 howitzer who's crew fired direct fire down the runway from near the Air Force villa, and was rumored that the tube got so hot it was "cooking off" rounds.
Click here to Read Tropic Lightning Account Of Battle
Published in Tropic Lightning News, March 10, 1969 (courtesy of Robert Jensen)
Click here to Read After Action Report
Hq ,2D Bn (Mech) 22D Infantry (2/23/69)
Here is a topo map and an aerial photograph of Dau Tieng Basecamp
Click here to read NVA propaganda pamphlet found in our wire a few days after attack
(courtesy of Hank Bergson)
Here's a link to Viet Nam era "Tropic Lightning News"
(The 25 Inf Division Newspaper)
Click here to View Newspaper Article (2/23/69)
Click on names below to read Personal Accounts
Mike Groves A Co, 2/22 Inf (Mech) 25 Inf,
Kenneth Whitely D Co. 229th (Killer Spades)
Lee (Pete) Hanner D Co. 1/27 Inf 25 Inf Div. (Wolfhounds)
Send your comments to me at webacraft@msn.com
Bill Biggs, of METRO HHB 1/27 Arty Dau Tieng (Sept 68-Aug 69)

View My Guestbook
Sign My Guestbook
<![if !supportLineBreakNewLine]>
<![endif]>
(Click on Blue letters to Look at OLD Guest Book)
Please Read OLD Battle of Dau Tieng Guest Book MANY ENTRIES will take a while to load
(You may find an old friend there)
Click here to view After Action Photos
Taken 2/23/69
(Go to bottom of first page of Photo Album to view other photos)
©1999, Bill Biggs
You are visitor number
Clich here to go to BIDNAPPER Auction Sniper, recommended by Me for Gunbroker Sniping
Battle of Dau Tieng 2/22-23/1969 is a member of the

Want to join the ring? Get info Visit other sites in the ring now!
[Prev][ SkipIt ][ Next5 ][ Next ][List Sites]
[ChatRooms] [V Vets at Yahoo]